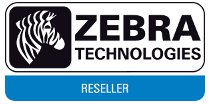 Zebra Ribbons
To get the best possible performance from Zebra printers it is recommended that only Genuine Zebra Ribbons are used. Zebra's ribbons are specially tailored for optimum performance in your zebra printer.
DesktopIndustrialWax RibbonsWax/ Resin RibbonsResin Ribbons
74mtr long Zebra thermal ribbons for use in the GC420t, GK420t, GX420t GX430t and TLP2844.
450mtr long Zebra thermal ribbons for use in the ZT200 series, ZT400 series, ZM series, 105sl series & the Xi4 series.
Zebra wax grade ribbons (02300) are cost effective and economical for low cost printing. Designed for use on paper materials only.
Zebra wax/ resin grade ribbons (03200) are the main stay of the ribbon grades. Designed to work with a huge array of materials they are suited to print onto paper materials and many synthetic materials. We do recommend testing on synthetic materials.
Zebra resin (5095) are the highest and toughest grade of ribbon in the range. They are designed to print on many synthetic materials (testing recommended) and offer the most resistant thermal print available.
Box Quantities
Zebra genuine thermal ribbons are sold in boxes of 12 ribbons for desktop and wax industrial and 6 ribbons for wax resin and resin industrial.
For more information or expert advice please Contact Us

Call us on 01798 873738>
Showing 1–12 of 18 results