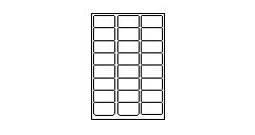 A4 Sheet Labels For Laser and Inkjet Printers
Suitable for home and office use, our A4 sheet labels are suitable for A4 Inkjet labels, Laser labels, and labels for mobile printers and for copiers.
Scroll down to see our complete range
Free material samples available on request
All of our A4 sheet label products are sold in boxes of 500 sheets
Prices shown are for one box of 500 sheets. Discounts apply on bulk purchases of 2 or more boxes. See the relevant product for more information
Our lead times are approximately 5 working days for all of our sheet label products.
Free shipping for many items
Showing 1–12 of 44 results