Description
Direct Thermal Labels for Desktop Printers
Our plain labels are tailored to fit a wide range of desktop label printers, including Zebra, Citizen, TSC, Toshiba & more. These labels are manufactured using excellent quality direct thermal paper permanent. Most major brands of desktop printers have a direct thermal print mode¹. Some desktop printers are direct thermal only, such as the Zebra GK420d.
Direct thermal labels have a shorter life span than thermal transfer (plain paper) labels. They can react to heat and direct sunlight. Whilst the labels have a shelf life of a few years (if stored correctly), once printed, the print can fade after 3- 6 months. This makes them perfect for labelling/ barcoding perishable products. By removing the need for a ribbon, direct thermal labels help reduce the overall costs of short life labelling applications.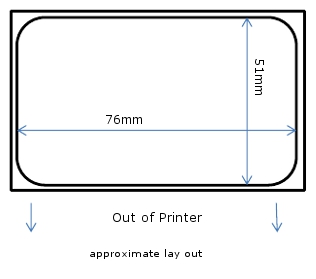 Full SpecificationsPrintersPricingBespoke Sizes
76mm x 51mm with radius corners
1,000 labels per roll. On a 38mm internal cardboard core for use in desktop printers
Matt white, direct thermal paper material with a permanent adhesive
Designed for use in direct thermal printers (no ribbon required)¹
The paper is coated with a special heat sensitive layer. allowing you to print with out a thermal ribbon
Perfect for labels that require a short life (3 – 6 months) such as perishable/ fresh goods.
For use with most desktop printer brands
Zebra GC420 models, GK420 models, GX420 models, TLP models
Citizen CL-S521/ 621/ 631
TSC TTP TDP Models, TTP 247/ 345/ 243 Pro/ 343 pro 245c/ 345c
Toshiba B-EV4D. SA4T and more
Plus many more*
Prices exclude VAT
5,000 Labels: £11.61 per 1000 labels. £11.61 per roll².

Total £58.05

(£69.66 incl VAT)
10,000 Labels: £7.19 per 1000 labels. £7.19 per roll².

Total £71.90

(£86.28 incl VAT)
25,000 Labels: £4.66 per 1000 labels. £4.66 per roll².

Total £116.50

(£139.80 incl VAT)
50,000 Labels: £4.18 per 1000 labels. £4.18 per roll².

Total £209

(£250.80 incl VAT)
100,000 Labels: £3.56 per 1000 labels. £3.56 per roll².

Total £356

(£427.20 incl VAT)
We have a full bespoke service for custom created labels. If you need something a little different from our stock labels. Perhaps a different, size, amount per roll, material. Simply call us on 01798 873738 or use the contact form at the bottom of the page

Please allow approximately 3 – 5 working days for delivery.
 *Please note we do not guarantee this product is suitable for all printers. Please check the manufacturers specifications for your printer.
¹Please check your user manual for instructions to see how to switch your label printer to direct thermal print mode (excluding direct thermal only printers)
²Price per roll estimated approximate only