Zebra's New ZT400 Series.
Zebra have recently launched the new ZT400 series industrial label printer. This range is replacing the famous and superbly successful ZM series. The Zebra ZT410 supersedes the ZM400 and the ZT420 replaces the ZM600. So what is the difference?
Well, to answer, we bought one.
We recently purchased a ZT410 300dpi for our thermal printing unit to be the main stay thermal printer for our over printed label products (barcode labels, text labels, etc.) We have over the years used Toshiba Tec, Citizen, TSC and even Godex and Intermec in our label production area so we are pretty experienced at putting printers through their paces. We are also supply, service and support all major printer brands (mostly in house) so we are well placed to have a crack at the new Zebra.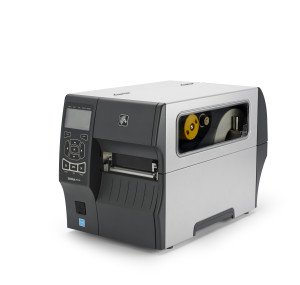 Firstly the ZT400's cost about the same as the old ZM's but you get a lot more for your pennies making the printer much greater value for money. The ZT410 has a bi-folding door, internal lighting, easy access print mechanics, i.e. you wont break fingers lifting the print head to load labels or have to unclip 20 different parts to access it. The label guide is simply, as you would expect and there is plenty of room for additional components such as internal rewinds or peel and present units.
The most impressive aspect is the ingenuity of the printer. This is clever, for a label printer. Bluetooth and Ethernet are included as standard, yes that is right, as standard. This shows Zebra is constantly looking at the changing requirements of its client base. The printer allows you to link with it via Bluetooth to print direct from mobile devises. Normally this is an expensive factory installed option, as with the Ethernet. As standard Ethernet can add over £50 to the price of a printer. The ZT's have it as standard at no real extra cost.
The printer also has increased memory and processor speeds meaning it can spool jobs faster and has print speeds from 1″ per second to a full 1 foot per second!!! which is a huge range of speeds and a very fast top speed.
As you can see the new ZT400 series is a great bit of kit. It senses missing labels and simply skips over them with out interrupting the print job, essential for sequential and continuous print jobs. All in all an excellent device well worth the cost.