How you can use labels to define your brand
Let's be honest, we all judge a book by its cover, especially when it comes to buying new products. First impressions are imperative if you are selling something, and often this first impression comes from the packaging or label. Even if your product is excellent, a poorly designed label could dissuade potential customers from choosing you.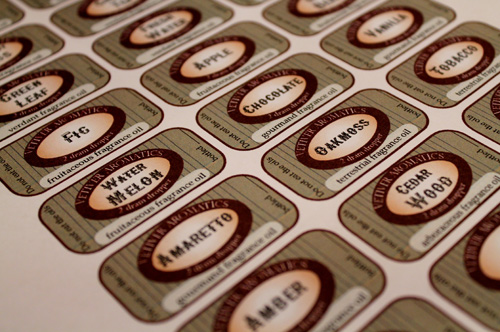 image source
Opting for labelling that is creative and inspiring can therefore make you stand out from the crowd and increase the likelihood of selling your goods and finding new customers. In this blog post we discuss some of the important aspects of using labels to define your brand and increase your customer base.
Consider your brand
Think about what customers your product is going to appeal to. Are they the kind of people who will like to shop at small independent businesses? Do they want something quirky? Perhaps they want something old fashioned or modern? Whatever you think your customers will want you should tailor your labels accordingly, and think about the colours and fonts that match the style you are going for.
Do your market research
This is perhaps the most important step and many small business owners make the mistake of not doing it. Look at your competitors and think about what they are doing right and what they are doing wrong, think about whether there is a gap in the market and use this information when designing your own labels. You could even ask your friends and family for input about potential designs.
Combine your labels with your marketing
If you are planning on launching an advertising campaign, either physically or online, then it is very important that you make sure your labels match. Use the same colours and fonts for everything so that customers recognise what they are buying and associate your brand with your labels. You want to build long-term relationships with customers, so the way you label and market your product is extremely important.
Don't play it safe
Be bold and take risks with your labelling. Too many businesses take the easy option and go for boring plain labels and packing or try to mimic the bigger brands on the market. People want something new, interesting and often even challenging. If you are slightly quirky and make people think with your labelling, they are much more likely to tell their friends. Do something original, something that will turn heads, and you will reap the benefits.