Description
Plain Labels for Industrial Printers
Our plain labels are tailored to fit a wide range of thermal transfer industrial label printers, including Zebra, Citizen, TSC, Toshiba & more. These labels are manufactured using excellent quality semi gloss paper permanent. This material is perfect for use with all major brands of thermal transfer ribbons. For optimum printing performance we recommend using Wax/ Resin ribbons. These labels are a great size for barcode labels.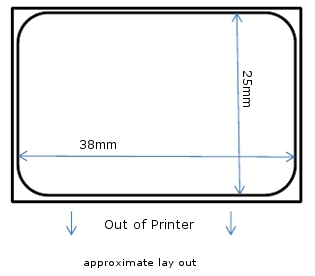 Full SpecificationsPrintersPricingBespoke Sizes
38mm x 25mm with radius corners
5,000 labels per roll. On a 76mm internal card board core for use in most major industrial printers
Semi gloss white paper material with a permanent adhesive
Designed for use in thermal transfer, industrial printers
The paper is formulated for optimal use with Wax or Wax/ Resin thermal ribbons
Perfect size for barcode labels, batch labels, retail price labels and more
For use with most industrial and mid range printer brands
Zebra ZT400 series, ZT200 series, 105sL series, ZM400, ZM600, Xi4 series
Citizen CL-S700, CL-S703, CL-S700R
TSC ME240, ME340, 2410M Pro series, 246M Plus, 346M, 644M, 268M, 366M
Toshiba SX series. EX series.
Plus many more
Prices exclude VAT
5,000 Labels: £9.05 per 1000 labels. £42.25 per roll².

Total £42.25

(£54.30 incl VAT)
10,000 Labels: £5.26 per 1000 labels. £26.30 per roll².

Total £52.60

(£63.12 incl VAT)
25,000 Labels: £2.56 per 1000 labels. £12.80 per roll².

Total £64

(£76.80 incl VAT)
50,000 Labels: £1.66 per 1000 labels. £8.30 per roll².

Total £83

(£99.60 incl VAT)
100,000 Labels: £1.22 per 1000 labels. £6.10 per roll².

Total £122

(£146.40 incl VAT)
We have a full bespoke service for custom created labels. If you need something a little different from our stock labels. Perhaps a different, size, amount per roll, material. Simply call us on 01798 873738 or use the contact form at the bottom of the page

For more information or a quote on bespoke plain label sizes please contact us.
Please allow approximately 3 – 5 working days for delivery.
 *Please note we do not guarantee this product is suitable for all printers. Please check the manufacturers specifications for your printer.
²Price per roll estimated approximate only